Ifueko M. Omoigui-Okauru(ed) (2014), Making Change Happen:
Partnering to Build Nigeria. Lagos: Andersen Alumni and
Storyteller Services. 466pages. ISBN: 978-978-941-318-8
By Chido Nwakanma, School of Media and Communication, Pan Atlantic University, Lagos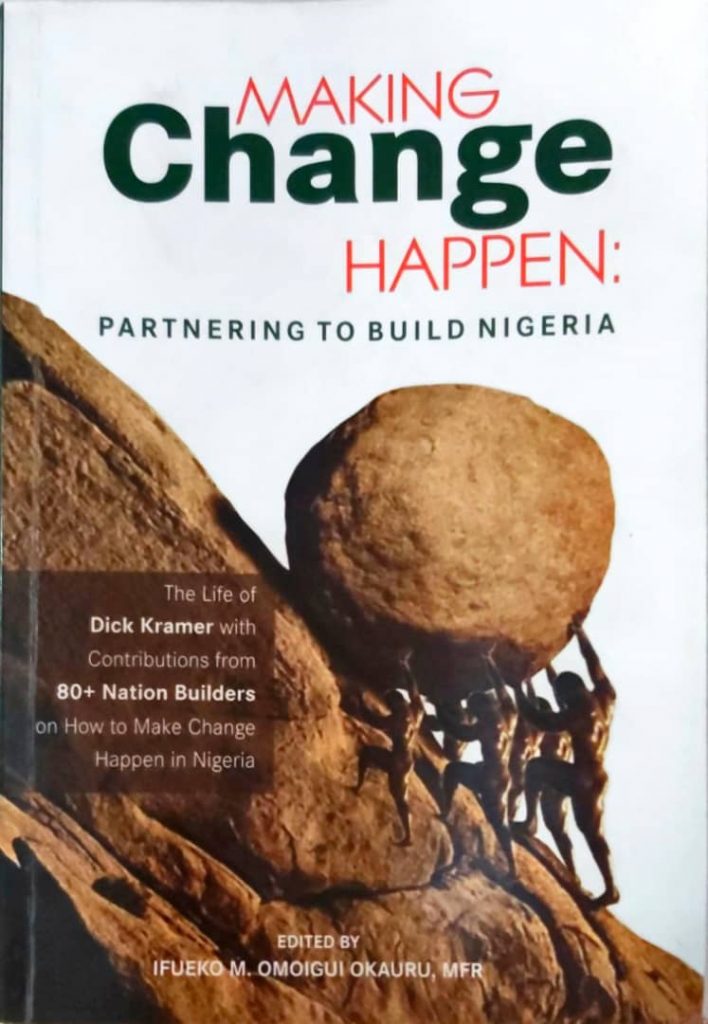 People. Principles. Practices. These are the sum of the contributions of
80 persons around the attributes and personality of Richard (Dick)
Kramer who gave 40 years out of his current 85 years in service to
Nigeria and who left for his final retirement only in July 2019. Friends
and associates held many a send forth party to honour the American
who loved Nigeria with passion and positivity. This book is a true
testament guaranteed to serve as a beacon to many people down the
line.
On the surface, this book of many stories is primarily a collection of
tributes to Dick Kramer. Deeper exploration shows more. Making
Change Happen: Partnering to Build Nigeria is both a many-sided mirror
as well as a compass for the vessel MV Nigeria with some of its most
accomplished holding the oars.
Dick Kramer started and grew the Nigerian office of the global
accountancy and consulting firm Arthur Andersen in 1978 and retired in
He finally left Nigeria in 2019. His footprints are traceable to the
Harvard Business School Alumni Association of Nigeria (HBSAN), the
Nigerian-American Chamber of Commerce, and the Lagos Business
School/Pan Atlantic University. Include the Enabling Environment
Forum, the precursor to the Nigerian Economic Summit Group,
American Business Council and Vision 2010.
He spent post-Andersen days building Nigeria's largest private equity
firm African Capital Alliance. Making Change Happen has the first-
person account of Dick and Wanda Kramer.
It also has a Who's Who of Nigerians, 80 persons, who were either
alumni of Arthur Andersen, African Capital Alliance or worked with Dick
Kramer on his many community projects. Community service was a
guiding philosophy for the Kramers. He states, "Fundamental for a family
is a strong commitment to leaving our community better than we found it.
Hence, personal and family values are aligned with community service
and, ultimately, nation-building."
Contributors include Chief Ernest Shonekan, Mr Adams Oshiomhole,
Prof Albert Alos and Atedo Peterside. Readers will share the thoughts
and experiences of Amina Oyagbola, Frank Aigbogun, Afolabi Oladele,
Mohammed Hayatudeen, Frank Jnr Nweke, Seyi Bickersteth, Pascal
Dozie, Juan Manuel Elegido and Bode Agusto. There are also Dayo
Lawuyi, Akin Laguda, Omobola Johnson, Charles Anudu and Emeka
Emuwa. Add Juliet Anammah, Keith Richards, Kelvin Balogun, and Ladi
Jadesinmi. Then Koyinsola Ajayi, Ifueko Omoigui-Okauru, Kunle
Elebute, Mansur Ahmed, Mazi Udochukwu Uwakaneme, Princeton
Lyman and Tani Fafunwa.
People, principles, practices and family. Kramer believed in people and
brought out the best in those he came across. Education was a priority
and accounted for much of his interventions. He practised what he
believed: the correct values as the basis for all actions, individual,
corporate and communal. Principle-based leadership is critical to making
the right decisions and effecting desired changes in Nigeria. Family,
finally, is the bedrock. Everything revolves around the family.
Making Change Happens lends itself to analysis using various
theoretical lenses. Albert Bandura's Social Learning Theory explains the
influence of Kramer after whom many of the narrators modelled their
behaviours. The book shares many stories in the line of Walter Fischer's
Narrative Paradigm. Editorial intervention is apparent in the themes, but
each story stands apart, and collectively they form a mosaic of exciting
perspectives.
Seek and read the colloquium on Nigeria featuring 80 of its leaders in
Making Change Happen. The publishers ask buyers to email them at
info@storytellerservices.com or call +234 8091114809.