A lifetime of friendships: And a career in television and Nollywood, Muritala Sule (2018), Lagos: MS Global Productions Limited. 242 pages.
ISBN: 978-978-55035-7-9
Reviewed by Chido Nwakanma
School of Media and Communication, Pan Atlantic University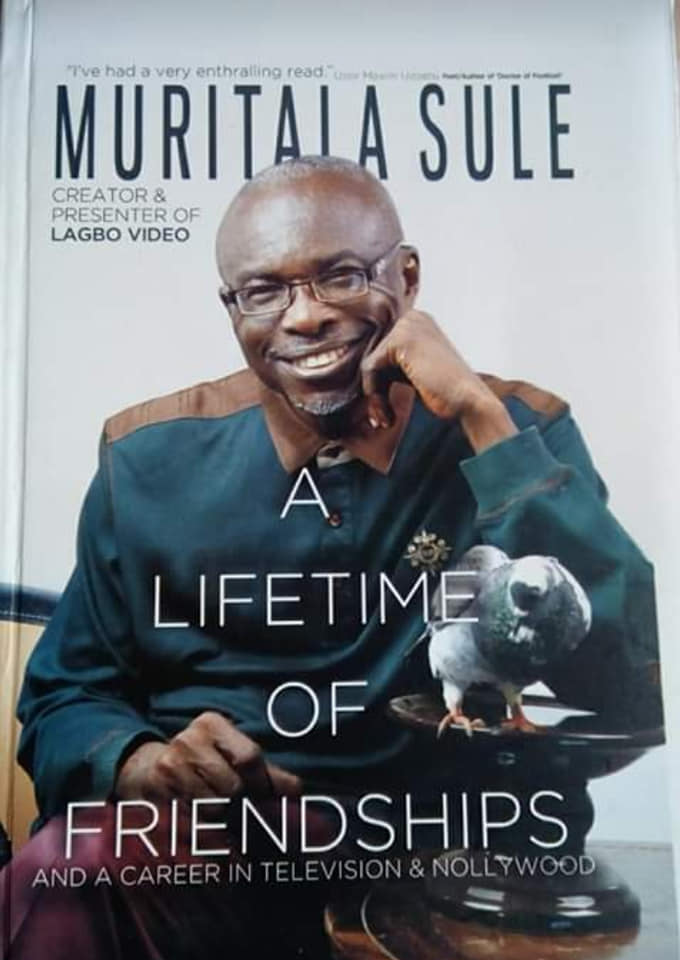 Several areas make this book significant and interesting. It is a free-flowing
narrative about the inter-connectedness of life and how events even in
childhood catch up with us and take deterministic shapes and turns. A
lifetime of friendships is a biography in the best traditions as it anchors on a
pivotal moment in the life of the author.
Muritala Sule is a communication professional with experience in public
information management, journalism, and film production. He produced and
presented the immensely popular Lagbo Video magazine feature
programme on NTA Channel 7 between 1995 and 1999. The programme
was a platform for the then evolving Nollywood. Lagbo Video is
understandably the peg for this narrative, but it then draws in many
characters and personalities and a rich trove of experiences and
interactions.
At the heart of the story is his life-long relationship with Godwin Igharo,
unfortunately now on the other side of life. They meet in the streets and
cinemas of Mushin as teens who would sneak in to watch films even at the
cost of severe punishment by the parents of Mr Sule. Soon Godwin moves
in as part of the family and together they form a strong personal bond that
they transmute in later life into a professional one. Muritala Sule, MS to
many of his friends and colleagues, weaves a writer's web that draws in
many persons, places and programmes of their lives into this engrossing
narrative.
Several areas of interest stand out in A life of friendships and serve as
learning points.
The author shows great skill and presence of mind in recollecting and
documenting the various relationships that stood out in his life and career.
People are the clothes that MS wears proudly as his sartorial signature. It
makes up for his often-downbeat sartorial taste. MS inherited and acquired
his love for people from his mother. Alhaja Raliat Sumbola Kareem was a
bleeding heart. She went out of her way to convert her home to a
communal restaurant, a semi-orphanage and a home for the homeless and
hungry. Her son took after her in bringing home a friend that would be a
significant part of his life.
Relationships and relationship management count down the line. A lifetime
of friendships brings to life in a Nigerian setting all the lessons and more in
Dale Carnegie's famous How to make friends and influence people.
Lessons in managing the egos and turf battles in the relationship between
producers of independent programmes and managers of the broadcast
platforms where they run them.
Life on the streets, the thrills and dangers. This portion makes for sober
reading.
Childhood discipline and the benefit of strong foundations. His father caned
MS ceaselessly for going to the cinemas and returning late at night. Much
later, he gloried in the success of Lagbo Video¸ borne on the inspiration of
such childhood obsession with moving images.
The journey of ideas from gestation to germination.
The often-unhelpful attitude of advertisers, like bankers, who support
ventures only when you have market-place proof of concept.
Gratitude and giving credit to others. The author pours generous
encomiums on various cadre of staff with whom he worked on the
programme at the Nigerian Television Authority. They range from the
General Manager then, Chief Bode Alalade, to engineers L.O. Olajide and
others.
Many people stand out in this narrative, none more so than Mahmoud Ali-
Balogun. He was the anchor for the realisation of the vision of Lagbo Video.
Then the many personalities who featured in the programme, from King
Sunny Ade to Tunde Kelani, Mrs Duro Ladipo, Kanayo O Kanayo, Bimbo
Akintola, Alhaji Lateef Olayinka (Latola Films) to Shina Peters and the
many players in Nollywood and the larger entertainment industry. Then his
many friends in journalism, including Lanre Idowu and Taiwo Obe, then of
Media Review and Steve Osuji of New Age newspaper.
The author quotes his then broadcasting lecturer at the University of
Nigeria, Dr Emmanuel Akpan, as saying that a good broadcast show
should "show me the banananess in the banana." Recalling it was a spur
for his idea of a TV programme on films. He also thought broadcast was
more effective than print in capturing the whole essence of the then
emerging Nollywood and film.
Even as he gives deserved credit to Dr Akpan, the author casts a withering
glance at the Nigerian university system. He blasts the inhabitants of the
Nigerian ivory tower for being disconnected with the reality of the market
place to which they send students. "In nearly all universities where Theatre
Arts and Mass Communication are taught, many lecturers mock Nollywood
and talk disparagingly about it and the people who sustain it, making the
would-be graduates look down on them. Yet, this is an industry that is the
toast of Africa and respected around the world".
Our academics, he asserts, are "All theory, no practise". The chapter on
Emmanuel Akpan is deep, reflective and makes profound statements about
the direction of Nigerian education. Why are we not teaching and
formalising Pidgin, the language spoken by many citizens across West
Africa? What are we doing about our rich idioms and proverbs instead of
quoting Homer, Aristotle and all the Greeks and Romans? Why are we not
linking courses to real-life to help students?
A lifetime of friendships is so picturesque it shows the banananess in the
banana of this story.
An index and a section explaining the local terminologies in use evinces the
care in getting the message across as well as concern for the reader.
A lifetime of friendships is a useful book for persons interested in
broadcasting and film, Nigeria's Nollywood, TV production and marketing,
as well as the history of Nigerian media. It would appeal to those in Literary
and Language Arts, communication and urban sociology.
It is most of all an intensely enjoyable first-person narrative of lives and the
intersections with other lives and how they play out many years down the
line.