Twenty seven- years old, Dorcas Nwagbara, from Obingwa Local Government Area of Abia State, has emerged the first Western Lotto jackpot winner and has become an instant millionaire.
The graduate of Microbiology, Imo State University (IMSU), won the Western Lotto jackpot money of N15million on Wednesday, September 13.
Dorcas was on Wednesday at the corporate head office of Western Lotto, Victoria Island, Lagos, at a colourful ceremony, presented the Cheque of N15million by the management of Western Lotto along side brand ambassadors, made up of comedian, nollywood actors and actress and musician.
In his address at the presentation ceremony of the jackpot cheque and to 20 other winners, Managing Director of Western Lotto Nigeria Limited, Mr. Yemi Ogunfowora, said Dorcas' win confirmed it claim that customers can win every prize on offer across all games and would honour such wins.
He said Western Lotto have shown commitment to its customers, stating that highest amount paid since Lotto kicked off was to an undergraduate student of Tai Solarin University of Education (TASUED), Qadim Soyombo, was on August 28, presented a cheque of N500,000.
The MD recalled that on September 11, 414 winners of the mega upgrade promo were presented with cheques of N50, 000 adding our plans remains to reward 2,042 customers with prizes including two cars.
According to him, the Lotto games would bring fun and hope to Nigerian public stating ''we bring to the Nigerian consumer games that offer opportunities to change the narrative of their lives.''
Said he: ''We continually stir hope by asking people to upgrade their lifestyle by playing our games. Our commitment to promoting good causes through our corporate social responsibility (CSR) is still intact, our scholarship programme and support for rape victim and abused women remain un shaken''.
''As we celebrate Dorcas Nwagbara, we believe her jackpot prize of N15million will invite Nigerians to join us in a World of fun and hope for a better lifestyle, hope that tomorrow would be better and you can upgrade your life as our winner has just done toady''.
An elated Dorcas, described September 15 as the best of her life because her name was trending and that when she received the news from an official of Western Lotto, she was shocked and speechless for about 30 seconds.
Her words:''As you can imagine, I am super excited. Friday, September 15, was one of the most exciting days in my life so far. I woke up that morning, and I did not even know that my name was everywhere. My name was trending.
"I then got a call from Western Lotto. Apparently, they had been trying to reach me all of Thursday, September 14. I had won the jackpot on Wednesday, September 13.
"Initially thought it was a call from one of the utility service providers and I was like "not again". I picked up the call, and the next thing I heard was, "Congratulations! You won the N15million Powerball Jackpot. I was like, 'Can you say that again'? The caller confirmed.
"I do not know what to say but to thank God. I just want to thank God, and I also want to encourage whoever is playing Western Lotto games to keep playing. I played up to 11lines the day I won. So, just keep playing. It would come."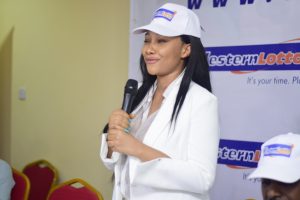 Her words: ''I can't believe what is happening to me today. It is real and I urge Nigerians to take the Western Lotto games serious. On the day I won, I played and even played today (Wednesday). When I visited Western Lotto office on September 15, the atmosphere was frenzy and I shield tears of joy.''
Dorcas explained that she would invest part of the jackpot money in her business and do charity work and she revealed the lucky numbers that made her win the jackpot to include 17, 24, 35, 57, 63 and 19 (powerball).
Nollywood actors, Olu Jacob, Prince Jide Kosoko, Kemi Afolabi and Ramsey Noauh, urged Nigerians with Dorcas' win to know that the Lotto games are real and that jackpot win can change their lifestyle.
Other brand ambassadors who graced the event include Innocent Idibia, Paul Obazele and Odunlade Adekola.