Sierra Leone's business, government, and economy leaders should walk confidently into 2022 and pursue innovation to drive economic growth, Nigerian communication expert Chido Nwakanma counselled on Thursday 2 December 2021 at the Salone CEO's Meet powered by La Fete Communications.
Nwakanma urged the leaders in the private and public sectors to build on the strengths of Sierra Leone and tap the opportunities in historical presentation, education, tourism, the extractive industry, and the environment.
Participants at the forum, leaders across sectors, agreed on the imperatives of innovation and entrepreneurship and exploring the country's opportunities more closely.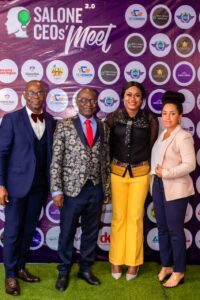 Noting Sierra Leone's relatively compact population and environmental serenity, Nwakanma submitted that the country has yet to leverage the history of Fourah Bay College as the first university-level institution in Africa.  He noted, "Africa longs for higher education. They go to institutions with history and tradition. What is holding back Fourah Bay College, Africa's first higher education institution in modern times?"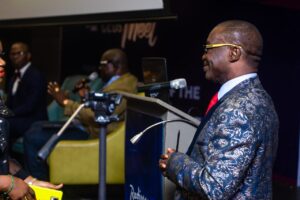 Nwakanma is the president of the Nigerian chapter of the International Association of Business Communicators (IABC) and a former president of the Public Relations Consultants Association of Nigeria. He also teaches as an Adjunct Faculty of the School of Media & Communication, Pan Atlantic University in Lagos, Nigeria.
Nwakanma asserted that Sierra Leone should market its rich environmental and tourist potentials as neighbouring Ghana and the Gambia do.
On tourism and the environment, Nwakanma shared his experience from 1 December 2021. "I took shots from my room at the Sierra Bay Hotel & Residence and sent them to friends back in Nigeria and across the world. Immediate response? "Wonderful. I love this. How much would it cost a family? Another person responded with the observation, "Is the water that blue? There is still hope for our environment.'
The speaker submitted, "I recommend that Sierra Leone should build on its strengths and the opportunities to craft and execute a value proposition around education, conferencing, environment, and tourism. Position and attract the conference market to the serenity of Sierra Leone. When they come, expose them to tourist facilities. Build superior educational institutions to serve West and Central Africa on the back of Fourah Bay College as the first university in Africa".
Significantly, Mr Nwakanma harped on the imperative of innovation and entrepreneurship as needed ingredients for success in 2022. He noted that most experts agree that the Sierra Leone economy would witness "strong real GDP growth of 4.8% in 2022, well above the Sub-Saharan Africa average of 3.7%".
He said it was up to leaders and entrepreneurs to make this happen and even exceed the expectations. "The critical question for entrepreneurs today in Sierra Leone and the rest of West Africa is one of vision. What can you see? Put another way, what can you envision even if it is not visible now?"
Nwakanma noted the many positives of the Sierra Leone Finance Act 2021 that offered tax reductions and incentives such as tax holidays to investors who build manufacturing facilities outside Freetown or go into tourism and small scale businesses. However, he added, "A plethora of other taxes, tolls and bills weigh heavily on businesses. They deny entrepreneurs the benefits of their enterprise. The approach is short-sighted. It creates room for tax avoidance and defaults, leading to under-the-table deals that deprive the government of revenue".
Nwakanma asserted that innovation, the entrepreneurial art of seeking and developing new vistas, is the challenge before Sierra Leone and its leaders and the rest of Africa.
He affirmed, "Economists and global strategists say Sierra Leone should have a smoother ride in 2022 than in the last two years. The economic fundamentals should be good. That means the internal market will also get better and open. There are also opportunities in the larger West African and African market."
He urged Sierra Leone and its business leaders to carve niches. Nwakanma added, "Once you have taken a position, you need to communicate the essence of your company and its offerings professionally. Engage internal communication teams. Or invite external counsel such as La Fete Communications Ltd. In this Information Age, communication is a critical imperative for business success. The matter is Darwinian: define yourself or be defined by sundry outsiders".
La Fete Communications organised the Salone CEOs Meet 2021 following the first one in 2019. COVID19 aborted the event in 2020.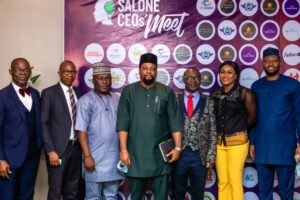 CEO Maraya Mushka Conteh said the Salone CEO's Meet is a platform for exploring ideas and strategies for the country's development.
=ENDS=